The Program | What's Included? | The Results | FAQs | About the Trainer
About the Program

For many women, sculpting a leaner, stronger physique seems just out of reach. You might find yourself switching programs, spinning your wheels in frustration, or maybe even giving up. You know you have unfulfilled potential waiting within you, but you just aren't sure how to get there.
That's where Lean and Strong comes in.
"I got exactly what I wanted out of this program: (1) learn HOW to gain muscle and (2) gain motivation. I'd never successfully gained muscle before this or gotten noticeably stronger. So I'm really happy with the program." – Arwen Stelter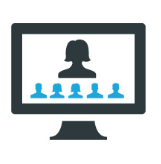 In this supportive and fun environment, Suzanne will monitor your progress and help you with the best strength-training techniques, along with an easy, wholesome nutrition plan. The goal? Increased strength, muscle definition, and reduced body fat in less time. You'll gain the confidence to keep going with the support of group members and a trainer who knows how to get amazing results.
If you're ready to get to the next level with your body and health, JOIN US for one of most fun and rewarding groups on Fitocracy yet!
Program Start: April 21, 2014
Duration: 2 Months
Designed for: Beginner to intermediate women
Goal: Build strength and muscle, lose fat, learn effective strength-training techniques
Requirements: Some strength-training experience is recommended and access to a gym or able to work out at home.
Participants: 20-30 people
What Do You Get?
For about $2/day, Lean and Strong includes:
Customized workout routine.
Build strength and muscle that increase your metabolism and help you burn fat while gaining overall conditioning, better posture, and increased energy.
Nutritional guidance.
Take the guesswork out of eating for your goals. Suzanne will provide nutritional guidance and meal suggestions based on YOUR preferences and lifestyle.
Weekly check-ins
to review your progress, set goals, and promote accountability. Access to Suzanne 24/7 with email support to answer any additional questions.
Encouragement from a private community
of other members experiencing the same challenges. Continued support and accountability are keys to success!

Begin your Transformation for only $77/month
What Results Can I Expect?

✓ Decreased body fat
✓ Increased strength and energy
✓ Better understanding of nutrition
✓ More confidence with strength training
✓ Awareness of body composition, form, and goal setting
✓ Knowledge of effective training techniques
✓ Improved posture and flexibility
"Working with Suzanne has been incredibly beneficial to my physical fitness as well as my confidence and mental sanity at the gym. She initially pushed me out of my comfort zone by setting up my program to better fit my goals. She was encouraging, informative, and firm, which is exactly what I needed. I have changed my workout style drastically and found myself loving lifting more and more. I have seen great progress in a short time!" – Emma
Frequently Asked Questions?
What kind of workouts will I receive?
You'll receive a program based on your lifestyle, goals, history, access to equipment, and experience level. But more importantly, Suzanne will customize your program around the activities you love.
How many hours will I need to train?
This will depend on your schedule and your goals. You will collaborate with Suzanne to ensure you're on the best training schedule for you. You'll need recovery days as well as training days, so be sure you can fit your new program into your current activities.
Can my program be done at home?
Definitely! Suzanne has designed programs for people who travel or train at home as well as those with gym memberships. For the best results, you should have access to a resistance band, dumbbells, and an adjustable weight bench at the minimum.

About the Trainer
Suzanne Digre is a Certified Personal Trainer and Owner of Workout Nirvana Fitness. She helps women rock confidence in the weight room while buildingsmokin' hot physiques. Her online coaching programs have helped countless women get to the next level of fitness, from losing body fat to doing their first unassisted pull up. Suzanne also trains clients in the Denver area and has been lifting weights herself for over 15 years. She's written over 200 articles at workoutnirvana.com about strength training, nutrition, and owning your power in the weight room and beyond.