The Program | What's Included? | The Results | FAQs | About the Trainer
About the Program
Weight loss is supposed to be hard, right? Not true! It only seems hard because most of what people know about weight loss is wrong.
MYTH: "Dieting means feeling hungry all the time."
Fitocracy's Weight Loss Made Simple will teach you how to stay FULL and lose an average of 5 lbs+ in the first two weeks!
"I always thought that losing weight meant being hungry and doing hours of cardio. With Fitocracy's help and guidance, I've come to realize that I can
stay full all day (like, insanely full) and still lose weight.

By providing us with educational readings and slowly introducing a new diet and workout routine, I feel like I am fully prepared to take on my long term goal of getting healthy and fit! I never realized how little I knew about fitness until I started this program." – Emily M.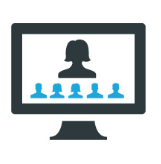 Weight Loss Made Simple is an 8-week course that teaches you the science and psychology behind weight loss. It's designed for beginners who have over 15% of their bodyweight or 20+ lbs to lose.
WLMS trainees who reported their weight lost between 6 to 10 lbs in their first month!
If you're ready to take control of your weight, JOIN US!
Program Start: April 21, 2014
Duration: 2 Months
Designed for: Beginning men and women
Goal: Set you on the path to long term, sustainable weight loss.
Requirements: You must have an open mind and be able to follow a nutrition plan.
Participants: 50-100 people
What Do You Get?
For about $1.50/day, Weight Loss Made Simple includes:
Personalized nutritional guidelines.
We will provide nutritional guidance and meal suggestions based on YOUR preference and body type to help you lose weight.
Training and exercise guidelines (OPTIONAL).
You read that correctly, no workouts required for the Weight Loss Made Simple program. We can bodyweight workouts as well as training programs you can complete in the gym.
Weekly video Q&As
with WLMS coach, Mike Vacanti. Access to Fitocracy coaches 24/7 with email support to answer any additional questions.
Encouragement from a private community
of other WLMS members experiencing the same challenges. Continued support and accountability are keys to success!

Begin your Transformation for only $45/month
What Results Can I Expect?
✓Decreased body fat
✓Increased energy
✓Better understanding of nutrition
✓Begin the basics of building muscle and losing fat
✓Learn tips and tricks to avoid dipping into your precious willpower stores
✓Set you on your journey of reaching your goal weight
"Starting this program, I was in a stressful place and unhappy with what the stress had done to my body. With Fitocracy's help I've already lost 12 pounds and 2" off my waist and am incredibly happy with the changes. Not only is the fat dropping but Dick helped create a plan that made my work at the gym pay off even more. The ugly bumps and lumps of fat on my body are being replaced by muscles starting to peek through! I'm really excited about my progress and that I know things will keep getting better. Now my body is an anti-stressor for me and something I'm starting to be proud of!!" – Michael F.
Frequently Asked Questions
What can I expect?
This is an extremely interactive class. You will be placed in a group with other Fitocrats, where you will need to perform weekly readings, report on your weight loss, and interact with your peers and coaches.
Are workouts really optional?
Yup, that's right. We can certainly recommend bodyweight workouts as well as training programs you can complete in the gym if you want guidance.
Can my program be done at home?
Absolutely! This program is designed to give you the tools to reach your goal at your own pace.

About the Trainer
Mike Vacanti is a NYC based Nutrition Coach and Trainer. He blogs – mostly on diet, training and psychology – and also runs a successful coaching business. Part head in the clouds, part nose to the grindstone – Mike believes owning your fitness regimen will blur the line between dream and reality as every area of your life is enhanced.Visit Mike on his Website, Facebook, Twitter or Fitocracy.