Weekly Insights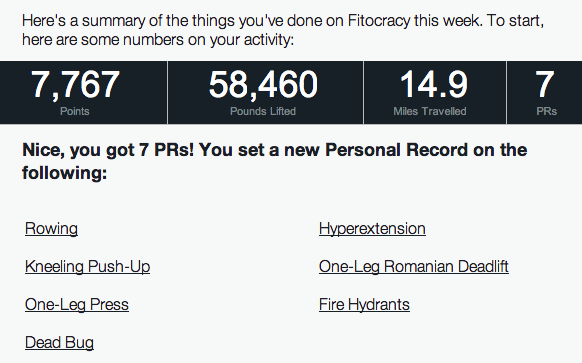 Watch your awesome-ness grow. Get a report of your activity every week, straight to your inbox. See how many points you earned, weight you lifted, distance you traveled, personal records you set, and more. Seeing your accomplishments all in one place is a sure-fire way to stay motivated.
Private Messaging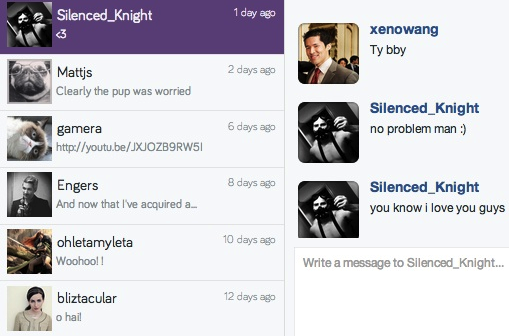 Get friendly with your fellow Fitocrats. Private messages can be used for a friendly word of encouragement, a question about someone's workout routine, or simply sharing something funny you found on the interwebz. Carry your conversations with you everywhere you go with Fitocracy for iPhone and Android.
Duels
Arguing about whose turn it is to do the washing up? He left the toilet seat up again? Ben from accounts drank the last of the coffee?
Settle scores the old fashioned way. As a Hero, you'll be able to challenge anyone on the site to a one-on-one fight for supremacy. Most points? Most distance run? Pick your poison, and away you go.
Claim a Title
Sure, you can show off your Level and Achievements to the world, but what if you could carry an epic title with you everywhere you went? As a Fitocracy Hero, your special title will be displayed any time your name shows up. Unlock titles by accomplishing different milestones.
Save others' workouts
Ever see someone else's workout and think, "I'd really like to try that?" Now you can. Just click the Save link next to any workout and set the date you'd like to do that workout. We'll send you an email with that workout the day of.
Exclusive badge
Your profile will be emblazoned with the highest glory that is the Hero Badge. Note: it may or may not provide you with the abilities of flight, super speed, and extreme attractiveness.
Support the site
Has Fitocracy helped you change your life? We hope so. By becoming a Hero, you're helping us continue to develop new features. That leads us to early access...
Early Access
We will give you exclusive access to new features before they're released to the rest of Fitocracy (like Android!). And yes, we will continue to add more features that only Heroes can enjoy.
Unlimited Routines
As a Fitocracy Hero, you'll be able to save as many Routines as you like (rather than just 8). On top of that, you will gain access to prepared routines that Fitocracy will make available in the future.